The Jeep Compass is a big hit in India due to its tough and rugged design. The Compass is known for its off-road capabilities as well as for its on road performance.
The vehicle is spacious and provides ample amount of comfort as a result of its well engineered chassis that can withstand torture put forth by different tough terrain conditions
The performance package that the Jeep Compass offers definitely has the involvement of tyres too. Tyres have always been that part of a car without which the performance in terms of a powerful engine and transmission becomes an utter waste.
We thought of helping you guys figure out which tyre suits best for your Jeep Compass. Whether its for driving in wet weather conditions or in dry summer heat we have the tyre specs which you would require to choose supreme tyres.
The Jeep Compass comes in 3 tyre sizes ranging from 16 inches to 18 inches. In terms of choices, there are 16 tyre makers like LINGLONG, MRF and CEAT that offers tyre options for the Compass in India. Prices for Jeep Compass tyres start at Rs. 6,830 and popular tyre models that fit are Wanderer, PRIMACY 4ST and LTX FORCE.
Jeep Compass Tyre Size
| Variant Name(Tyre Size Guide) | Tyre Size |
| --- | --- |
| 1.4 Sport | 265/60 R16 |
| 1.4 Sport Plus | 265/60 R16 |
| 2.0 Sport | 265/60 R16 |
| 2.0 Sport Plus | 225/60 R16 |
| 2.0 Longitude | 265/60 R18 |
| 2.0 Limited | 265/60 R17 |
| 1.4 Limited AT | 265/60 R17 |
| 2.0 Limited (O) | 265/60 R17 |
| 1.4 Limited (O) AT | 265/60 R17 |
| 1.4 Limited (O) AT Petrol Black Pack | 265/60 R17 |
| 2.0 Limited 4x4 | 265/60 R18 |
| 1.4 Limited Plus AT Petrol | 225/60 R18 |
| 2.0 Limited (O) 4x4 | 265/60 R17 |
| Limited 4x4(O) 2.0D Black Pack | 265/65 R17 |
| 2.0 Limited (O) 4x4 Black Pack | 265/60 R17 |
| 2.0 Limited Plus 4x2 Diesel | 225/60 R18 |
| 2.0 Limited Plus 4x4 Diesel | 225/60 R18 |
| 2.0 Bedrock Diesel | 225/60 R16 |
| Black Pack Edition Petrol | 265/60 R17 |
| Trailhawk Diesel | 225/60 R17 |
Also See:Check Out Popular Tyres Suitable For The Tata Harrier 2019-20
Michelin LTX FORCE:
The Michelin LTX force series tyres perform superb in wet condition. The tyres provide enhanced braking in wet road conditions which makes it suitable in areas where the tyres constantly have to deal with such weather conditions.
The tyres have hydroplaning resistance due to the groove design which means that the the contact area will effectively remove water through the channel of the groove which will provide maximum traction even in wet conditions. The tread pattern assures good grip while cornering and the tyre provides stability due to wider contact patch.
Mohan Kumar, Commercial Director, MICHELIN India said, "The SUV market is one of the fastest growing segments in India. Industry estimates indicate one in four vehicles sold last year was an SUV and as more Indians opt for SUV's, this segment is estimated to continue growing, both in cities and upcountry towns. Our LTX Force is an all-rounder and is ideal for SUV owners who regularly use their vehicle on both paved and unpaved road. Innovation is at the heart of our product development and this tyre is a perfect example of it, where we showcase a seamless transformation from track to road. By using this range, the SUV users in India will benefit from the international technology that has enjoyed numerous podium finishes at grueling all terrain competitions such as Rally WRC."
Goodyear WRANGLER AT/SA:
The Goodyear Wrangler At/SA is an all terrain tyre especially built for off-roads and 4x4 action. The tyre performs equally impressive on road as well as off-roads. The enhanced handling and comfort improves the overall ride quality. The SilentArmor technology allows you to confidently tackle rough and tough terrains. The 2 High tensile steel belts provide strength to the tyre to tackle bad section of roads. The tread pattern is designed to provide traction on wet surfaces. The tyre's appearance is also impressive.
Also See: Popular Tyres Suitable For Hyundai Grand i10 In India
Apollo APTERRA H/T2: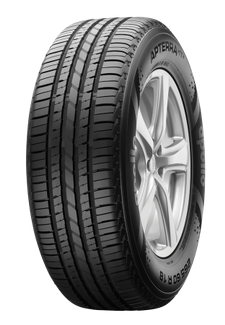 The Apollo Apterra HT2 is designed for providing a smooth and comfortable ride. The tyres provides longer service life because of the enhanced wear life. The tyre is constructed with wear resistant tread compound which enhances the overall performance of the tyre. These tyres are comfortable to ride on even on rough sections of roads thanks to its specially designed tyre contour.
The Apterra performs well in wet and dry conditions. The performance that the tyres offer is exceptionally good. the tyres help in shorter distance braking. The high quality rubber compound with the unique tread design helps in keeping the noise low even after wear according to the manufacturer.
MRF Wanderer:
The MRF wanderer tyres features a multi layered reinforced steel belt with N-66 cap ply. This ensures enhanced performance on all types of terrains. The graphics on the sidewall makes the vehicle look stylish. The tyre provides a superior driving experience thanks to its multi layer hi- modulus carcass and sidewall. The tyre performs exceptionally well at all speeds. The wide grooves provide outstanding traction or grip in wet conditions. The braking performance is also enhanced with the MRF wandered set of tyres. One can expect optimum performance throughout the year.
Michelin PRIMACY 4
Michelin Primacy 4 Is known to produce lesser tyre noise meaning that the tyres provide good ride quality. According to the manufacturers, these tyres are said to be the most silent tyre and most comfortable comparing to other premium brands as per review provided by the professionals. The tyres provide lesser cabin noise which is a plus point.
The Michelin Primacy 4 tyre has a Standard Manufacturer's Warranty, which covers defects in design, workmanship and materials for the life of the original usable tread, or for 3 years from date of purchase, whichever occurs first.
According to the manufacturer the tyres are a constructed with cutting edge technology that has been engineered in collaboration with some of the world's leading car manufacturers .