F1 tyre partner Pirelli has confirmed that 2021 F1 tyres will be tested by the drivers during the practise session at the Bahrain Grand Prix.
Earlier, the 2021 season's tyre compounds had been tested this year at the Portuguese Grand Prix, where each driver used them for the first 30 minutes of FP2. This was conducted so that Pirelli can acquire data for the betterment of the tyres.
Pirelli mentioned that each team will be provided with two sets of 2021 F1 tyres- the C3 compound which must be tested at the Bahrain race track. According to the Italian company, the drivers must use one set during FP2, and are free to use the other in either Friday session.
Furthermore, at the final race in Bahrain, teams will be required to run the 2021 C4 compound tyre during the latter of the two practice sessions on Friday.
Pirelli F1 tyre chief Mario Isola says that the programme will provide the drivers with their first 'proper' experience of the compounds they'll be using throughout next season.
"During the first weekend, drivers will run the new 2021 tyres on Friday with the C3 compound, getting a first proper taste of the rubber they will use next year," he said.
Also See:F1 Team Mercedes Had A Weakness Due To Long-Wheelbase?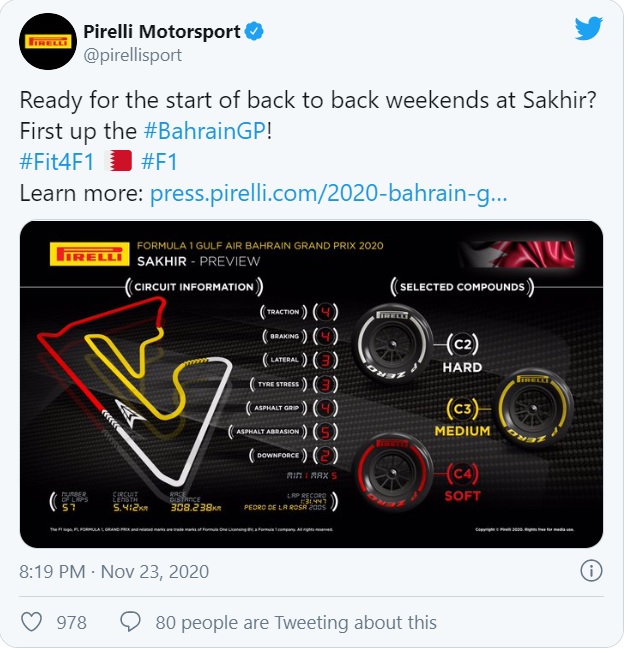 Isola is expecting it to be a challenge for Pirelli and the teams, as the circuit is completely different from any that has been raced on before.
He also mentioned that the simulation data they have is not enough to have a clear idea of degradation levels and strategy options.
"We get to experience something quite different during both weekends in Bahrain," Isola added.
"Perhaps the most interesting challenge will be the Sakhir Grand Prix, as it's not like any other circuit where we have raced before: even though it uses about half of the standard Grand Prix track.
"While there's some simulation data already, we need to wait for real data from free practice to understand the exact effect on wear, degradation, and therefore strategy.
"On top of that, we're bringing tyres that are a step softer than last year, which open up more opportunities in terms of strategy.
Also See:Why Did Mercedes Have Issues In The Turkish GP Qualifying